2023 Indy Heat Gym Rats Golf Outing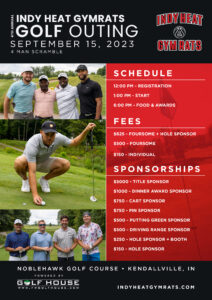 Proceeds go to support the
Bill Hensley Memorial Scholarship Fund
Helping serve those in need through the sport of basketball
Friday, September 15th, Noble Hawk Golf Links
3005 Noble Hawk Dr, Kendallville, IN 46755
For questions or additional information please contact:
Kenton Aubrey
(502) 428-6736
kentona@gymratsbasketball.com
We are excited to host the 3rd Annual Indy Heat Gym Rats Golf Outing.  Last year we hosted 25 teams and it was a huge success. We are shooting for 36 teams this year and another outstanding event. We hope to See You on the Course!
The proceeds for the event went to the Bill Hensley Memorial Scholarship fund. The Bill Hensley Memorial Scholarship fund was created to provide financial assistance to qualifying applicants for participation in Gym Rats and Indy Heat youth programming. We believe self respect and essential life skills are cultivated through youth sports and we are grateful for the opportunity to serve so many families. Fundraisers such as the Indy Heat Gym Rats Golf Outing are essential to our program's ability to serve our communities.
Gym Rats Inc. exists to provide a teaching and learning forum to establish foundational core values for youth participants ages 5-19 and adult coaches to become positive influences within their communities.